Danielle Tyson Wins 2015 UNCF Merck Undergrad Scholarship
1 of 15 selected in the U.S.!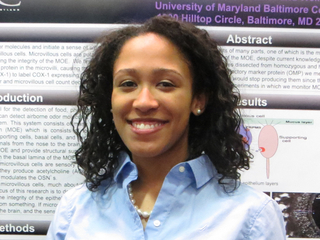 Congratulations to Danielle Tyson for receiving the prestigious UNCF-Merck Undergraduate Science Research Scholarship award!  Danielle Tyson is a junior undergraduate student majoring in Biochemistry and Molecular Biology.  She has worked in  Dr. Weihong Lin's laboratory and  presented at URCAD in 2014.  Currently, Danielle works in the Department of Chemistry and Biochemistry with Dr. Zeev Rosenzweig on the synthesis of gold nanoparticles capped with various functional groups.