Nikaela Bryan wins a UNCF Scholarship
Receives UNCF Merck Undergraduate Science Res. Scholarship!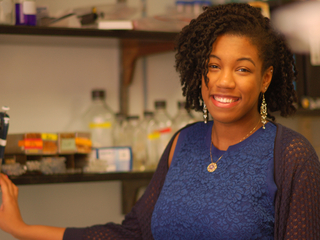 Nikaela, a HHMI student performing research in the lab of Dr. Lasse Lindahl is the recipient of the UNCF Merck Undergraduate Science Research Scholarship award.  This award is given to 15 African American undergraduate students to encourage their interest in furthering their science education and their pursuit of biological, chemical or engineering science careers by providing tuition support of up to $25,000 for the academic year 2015-2016 and opportunities for a research internship assignment at a Merck Facility for 10-12 weeks.