UBM Scholars Present Research at UMBC SURF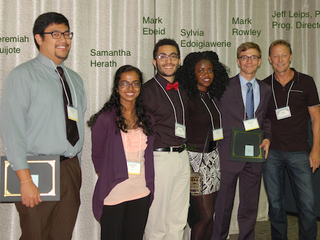 Scholars Sylvia Edoigiawerie, Samantha Herath, Mark Ebeid, Jeremiah Quijote, and Mark Rowley, from the Program in Interdisciplinary Training for Undergraduates in Biological and Mathematical Sciences (UBM), presented their research at the UMBC Summer Undergraduate Research Fest  held August 10, 2016 at UMBC (http://surf.umbc.edu/).   The program is supported by the National Science Foundation.  At the core of this program is the belief that modern scientific problems demand multidisciplinary approaches, and that cross-disciplinary training will accelerate discovery and prepare students to be scientific leaders in the 21st century. Program Directors are Jeff Leips, Professor of Biological Sciences and Nagaraj Neerchal, Professor of Mathematics & Statistics. 
     Pictures of the scholars presenting at this event are posted under the Achievements > Conference Presentations link of the UBM website.